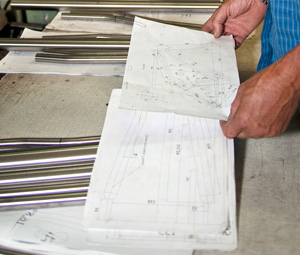 The main advantages of titanium are specific strength, fatigue life, ductility and corrosion resistance. Titanium constuctions are extremely strong, durable and good looking.
Titanium is one of the best material for bicycle frames and components production. They have very good ride qualities, among them - the ability to dampen high-frequency oscillations. Titanium alloys have greater fatigue strength than steel and aluminium thats why the titanium bicycle will last longer than another.
For highly loaded parts of our frames we use only certified seamless gauge tubes
from aerospace grade titanium alloy OT-4. For lower loaded parts of frames we use PT-7M titanium alloy, which is superior in characteristics after cold deformation than wideknown Grade 9 alloy.
We can change under control the frame stiffness by changing its design, tube diameters and tube profile. The tube set is chosen not only for each frame model,
but also for each frame size.